Daikokuya's Western Union international money transfer service is secure and at a low price! Weekends and holidays? OK!
Daikokuya's Western Union International money transfer service
An appealing price system! Daikokuya international money transfer service has now begun offering money transfer rates from just 990 JPY*! *(The money transfer handling fee changes according to the amount being transferred.)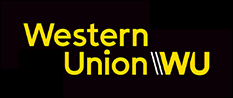 We offer low handling fees & same-day money transfers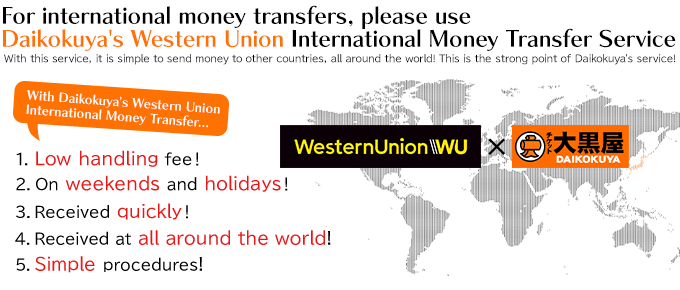 The number of people studying abroad, travelling overseas, going on overseas business trips or opening bank accounts overseas for investment is increasing. Despite the fact that international money transfer is becoming more common, bank handling fees, wire transfer handling fees, international money transfer handling fees etc, are extremely high and are complicated procedures taking a long time to complete. For this we recommend using Daikokuya's Western Union International Money Transfer Service. In partnership with the globally renowned international money transfer service company Western Union, Daikokuya has established a convenient and customer-oriented money transfer service. Please, take the opportunity to make use of it! Daikokuya's Western Union International Money Transfer Service is inexpensive, quick and simple. Also, at Daikokuya, when dealing with various currencies, you can take advantage of our simple and convenient currency exchange service (Japanese version), which is now in operation. Western Union provides a service based on over 135 years of achievements and know-how in the money transfer business. We strive to provide an international money transfer service fostered by the purchases made and quality of experience gained in Daikokuya.

Here is the list of participating stores.
The main points of Daikokuya's Money Transfer Service.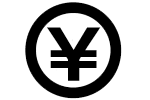 All things considered, at Daikokuya's International Money Transfer Service, we are proud of our low handling fees. For money transfers of up to 10,000 JPY, they can be transferred overseas for just 990 JPY*. Also, when receiving money, there is no need to pay any additional handling charges. That is the secret of the strength behind Daikokuya's nationwide expansion.

*The international money transfer handling fee will change depending on the amount of money being transferred.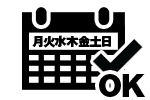 One thing that is extremely appealing is being able to transfer money on weekends and national holidays. Even when banks and post offices are closed on weekends and national holidays, Daikokuya is in business, so there's no problem! You don't need to open a bank account, so it's hugely convenient.
Overseas money transfer opening hours: Weekdays 10:00-18:30, weekends and national holidays vary depending on the store.

*This varies according to the store's opening hours and days closed for business.
*Some stores are excluded.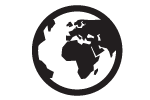 There are so many locations from which you can receive from Daikokuya's Western Union International Money Transfer Service!
As the largest overseas money transfer business in the world, Western Union does business in over 200 countries and more than 550,000 locations※ where money can be received, and can transfer money without the need for a bank account.

*There are some countries to which money cannot be transferred. In these cases, money can only be received. As of 31st December 2010.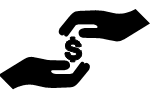 Once the money transfer has been carried out, a few minutes later, the recipient can get the cash in the transfer destination. When you demand quick international money transfers, leave it to Daikokuya.

*Depending on the amount of money being transferred, the receiving country, currency inventory, various regulations and foreign exchange, procedures deemed necessary for the recipient, important points regarding personal identification, opening times of cooperating stores, time difference, choosing the option to delay the transfer and various other conditions, or if the money is delayed, there may be cases where it is not possible to make use of the service. Western Union is involved with currency exchange, so there are cases where some marginal profits are made from foreign money orders. Also, there are cases where restrictions apply. For more details, please refer to the money transfer request form.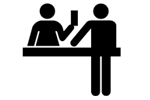 You'll be pleased that money transfers can be carried out easily and without hassle. so it's simple and hardly takes any time at all to carry out the overseas money transfers at Daikokuya. Also, for the recipient there are no troublesome requests made! Either way, it's simple!
About Western Union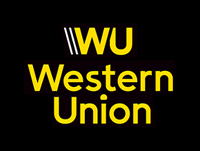 Western Union is built on over 135 years of experience in the money transfer business and provides a reliable and swift international money transfer service for customers all over the world.

Western Union was established as a telegram company and has now developed into the largest major overseas money transfer business in the world. Following a history of more than 170 years, it continues to grow even bigger.

Today, as the world's largest major international money transfer service enterprise, Western Union offers a swift and reliable service to individuals all over the world.In Japan, Western Union uses Daikokuya's stores, focusing on individual customer orientation to provide a swift, convenient and reliable international money transfer service. There are currently more than 20 locations in Japan with cooperating stores, and expanding further with more service locations.

For overseas, they provide an international money transfer service in more than 200 countries and regions around the world, in over 550,000 cooperating stores.

To find out more about your nearest Western Union service providing stores, please ask the Western Union Customer Service Center on 0034-800-400-733 (from Japan) or +61-2-9226-9554 (from overseas). (Opening hours: Japanese language support Monday to Sunday 10:00-19:00; English is available 24 hours a day.

Click here to Western Union website.
About Daikokuya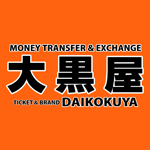 Since the first store opened in 1981, Daikokuya has expanded to more than 120 stores across Japan, buying and selling tickets, brand goods, consumer electronics and more. Recently Daiykokuya began offering currency exchange and Western Union money transfer services, answering to global needs.