Daikokuya's Western Union international money transfer service is secure and at a low price! Weekends and holidays? OK!
Daikokuya's Western Union International money transfer service
An appealing price system! Daikokuya international money transfer service has now begun offering money transfer rates from just 990 JPY*! *(The money transfer handling fee changes according to the amount being transferred.)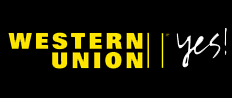 About personal ID
In the case of sending and receiving money, it is necessary to present original copies of the following valid, government-issued photographic identification documents. This is to confirm your name, current address and date of birth.
Japanese customers are also required to write their names in English characters when sending / receiving money. Please make sure the correct spelling of your name in advance.

Note: Request to additionally submit "Individual Number (My Number)"
As you are aware, Individual Numbers will be used nationwide from January 1st, 2016.
Foreign remittance service providers like Western Union are required under the "Act on Submission of Statement of Overseas Wire Transfers for Purpose of Securing Proper Domestic Taxation" to collect customer Individual Numbers at the time of transacting.
From January 1st 2016, we request that customers bring evidence of their original Individual Number with them to be recorded in the money transfer application form. Customers should explain that they have not been notified of their Individual Number before a transaction if that is the case.
The Individual Number requirement is in addition to providing another form of government--‐ issued photo identification for transactional purposes. Customers are therefore required to provide (i) evidence of their Individual Number, and (ii) another form of identification, when sending or receiving money.
Request to submit Individual Number (My Number)
*Certificate of Residence with your Individual Number. (Issued within 6 months)
Japanese customers
Please present any one of the following documents.
Passport (You will need a certificate of residence, please bring one of the auxiliary documents listed below.)
Individual number card
Japanese driver's license
Auxiliary documents(The address given is somewhere in Japan.)
National tax, local tax or vehicle tax receipt (from within the last 6 months)
Certificate of residence (from within the last 6 months)
Certificate of Seal Registration ("Inkan Shoumeisho ") issued within the last 6 months
Foreign customers
For foreign travelers
For foreign travelers who have been given permission to disembark and stay in Japan for up to 90 days, please present your passport.
For Foreign residents in Japan.
For foreigners for whom a stay in Japan for over 90 days has been approved, please present your foreigner registration card. It is necessary for the foreigner registration card to fulfil the following conditions.
It is within the expiration date.
The address given is somewhere in Japan.
Any changes or extensions to the registration are appropriate.
The full name is written in roman characters (romaji).
If the foreigner registration card does not meet all of the above conditions, then your identity cannot be verified and the collection of the money will be refused.
For foreign residents in japan(Those who do not have a foreigner registration card)
If you are a diplomat or an embassy staff member, please show your official passport.
Also, you will need a certificate of residence, please bring one of the following documents.
Japanese driver's license(The address given is somewhere in Japan)
Diplomat residence certificate issued by the Ministry of Foreign Affairs of Japan(The address given is somewhere in Japan)