Daikokuya's Western Union international money transfer service is secure and at a low price! Weekends and holidays? OK!
Daikokuya's Western Union International money transfer service
An appealing price system! Daikokuya international money transfer service has now begun offering money transfer rates from just 990 JPY*! *(The money transfer handling fee changes according to the amount being transferred.)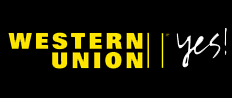 The Daikokuya stores that handle Monday Transfer Service.
Easy Money Transfer with
DAIKOKUYA Stores.
With nationwide Daiykokuya store, speedy international remittance service near by! On weekends and public holiday is also run depending on a store, whenever the need arises so you can have peace of mind!
*The store's opening hours and days vary depending on the store. Please contact with each store in detail.
Kanto Area